We have always read about giants in fiction books. Believe it or not, there are gigantic people that exceed what is considered the normal height of human beings. An average person is 5.9 feet tall. Men generally grow taller than women, with the average female height being 5 foot and 4 inches'; abnormal growth in height might be as a result of diseases that affect the growth hormones or genetic variance. This article highlights the top 8 tallest women in history.

1: Zeng Jinlian (Height: 246.3cm)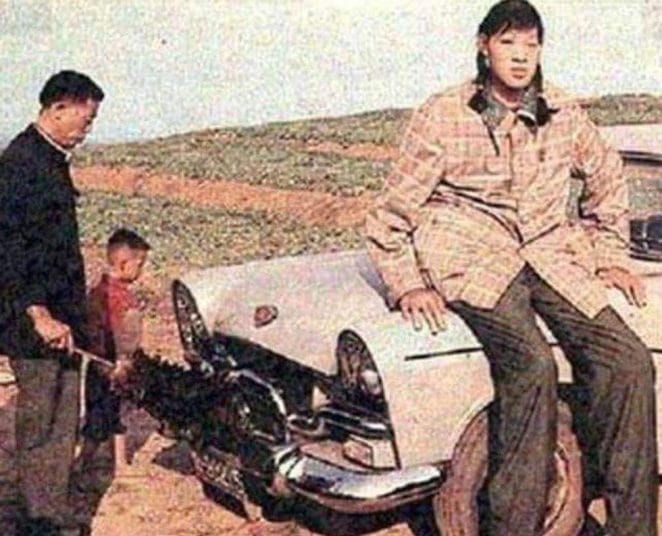 Zeng Jillian was born on June 26, 1964, in China and was the tallest woman of her time. Guinness World Records has declared that she is the world's tallest woman. She topped out at a whopping 8 feet and 1 inch in height.
Even though she was extremely tall, she was unable to maintain a straight back due to her size. She grew at an accelerated rate because to a wad low-like growth pattern. Since her spine was curved, she couldn't stand at her full height. Until her death, she was the tallest person ever documented in China, as well as the world's tallest. She is the only woman that has been measured to be over 8 feet (243 cm).
2: Anna Haining Bates (Height: 242cm)
Anna Haining Bates was a Canadian-born Nova Scotian who was born on August 6, 1846, in Mill Brook, NS. She was born with a birth weight of 7.26 kg and was 6 feet tall at the age of ten. She weighed 168.28 kilogrammes and was 7 feet 11 centimetres tall.
Anna married enormous man Martin Van Buren Bates on June 1871, and the couple had two children, who both died shortly after birth. Additionally, the children were enormous. Anna died abruptly and unexpectedly in her sleep on August 5, 1888, one day before her 42nd birthday, of heart failure. Due to the lack of x-rays at the time, the source of her extraordinary height was never determined.
3: Jane Bunford (Height: 241cm)
At the time of her death, Jane Bunford was one of the world's tallest women, at 2.41 metres (7 ft 11 in) tall (adjusted for spinal curvature). During her lifetime, she was the world's tallest woman. Bunford died on April 1, 1922, at her Jiggins Lane residence. Bunford died of hyperpituitarism and gigantism, according to her death certificate.
Her casket was 2.50 metres (8 ft 2 in) long, according to undertaker's data published in General Practitioner, and was probably the biggest ever used for a UK burial.
4: Yao Defen (Height: 234cm)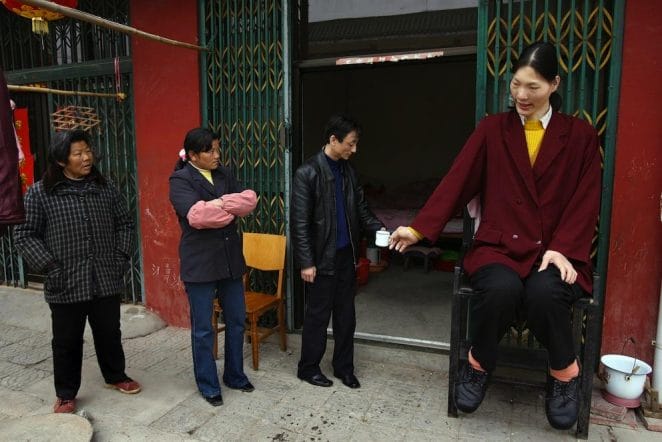 Yao Defen was born in Shucheng County, Anhui Province, China in 1972. Yao was 7ft 8in tall and 157kg. She was the tallest woman of her time, according to Guinness. Her pituitary gland has grown a tumour, which has resulted in Yao's growth. When Yao was 15, he was already 6 feet 9 inches tall.
To remove the tumour, she underwent surgery in 2006. Yao's tumour had been removed in 2006, but she had developed a number of other health issues, including a blood clot in her brain. On the 13th of November, Yao Defen, who was 40 years old at the time, died of an undisclosed illness.
5: Siddiqa Parveen (Height: 233.6cm)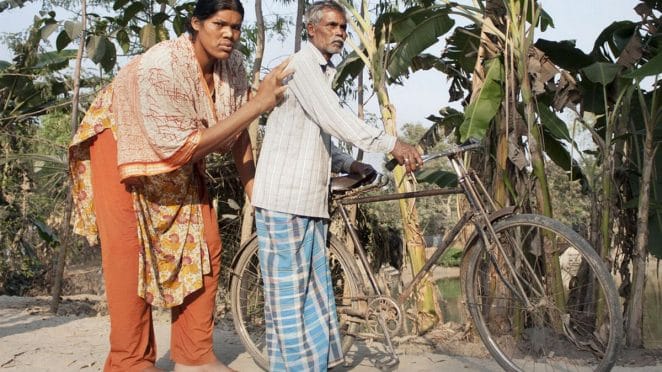 At 233.6cm (7ft 8in), she is the world's tallest woman, according to the Guinness World Record. Also, she's the tallest Indian woman in the world. Because of a tumour on the pituitary gland in the brain, doctors believe that Parveen's abnormal height is linked to an increased hormone production.
To get the tumour removed, Parveen had to travel almost a thousand kilometres from her little West Bengal hamlet to the All India Institute of Medical Sciences in New Delhi. Doctors removed a huge tumour from her brain, which rescued her from paralysis and blindness.
6: Sandy Allen (Height: 231.7cm)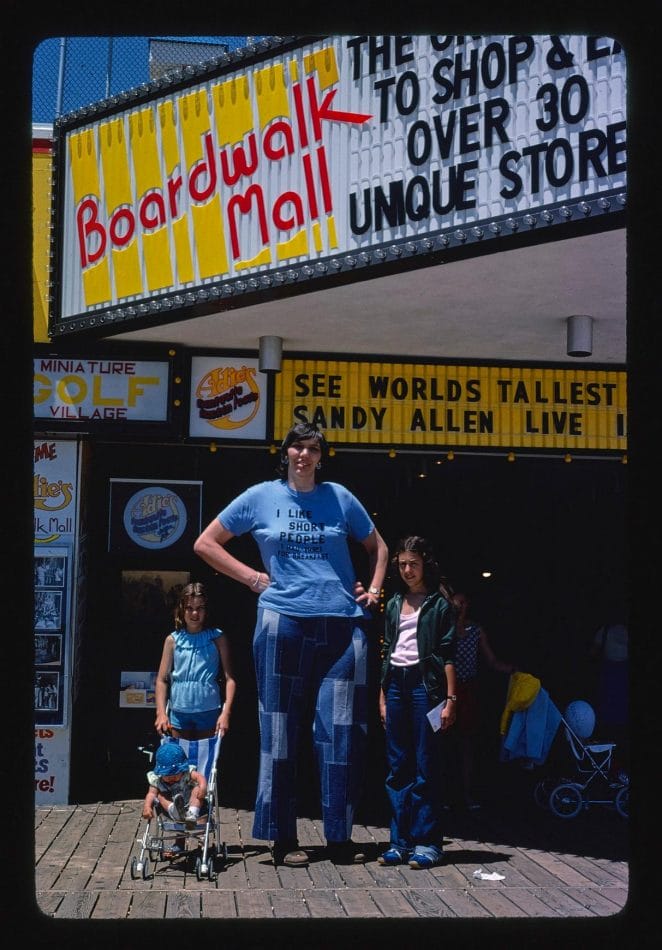 Sandra Elaine Allen, better known as Sandy Allen, was the world's tallest woman and the tallest American woman. She has a height of 7.7 ft (231.7cm). For a time, she held the title of world's tallest woman, according to Guinness Book of World Records.
The 18th of June, 1955, saw the birth of Sandy Allen in Chicago, Illinois. Her extraordinary stature was the result of an unchecked release of growth hormones induced by a tumour in her pituitary glands. When Sandy was 22, she received surgery to correct her gigantism, and it was a success. If surgery had not been performed, she would have grown more faster and developed more of the medical issues linked with giantism.
"Cast A Giant Shadow" is a book written by Sandy Allen that features her as well as other colossal figures. She has also appeared in a number of television shows and films, including the sideshow, Fellini's Cassanova, and Being Different, among others. Sandy had to use a wheelchair when she was older since her legs and back were no longer able to support her towering stature. August 13, 2008 was the date of Allen's death. Chronic infections of the blood, as well as breathing difficulties and diabetes type II all contributed to her eventual demise.
7: Vasiliki Caliandi (Height:229.87cm)
Vasiliki Caliandi, the world's tallest woman, was born in 1882. She grew to be 7 feet, 6.5 inches tall (229.87 cm). It is stated that her eyes are the size of hen's eggs, and her hands and feet are enormous in comparison to a regular human being. She died in 1904 after a 22-year life, although she is still Greece's tallest woman.
8: Zhang Ziyu (Height: 226cm)
Zhang Ziyu stands 2.26 metres (7 feet 4.9 inches) tall. Zhang Ziyu was born in the east Chinese province of Shandong in May 2007, to parents who were both former professional basketball players. Zhang's father is 2.13 metres tall, and her mother, Yu Ying, is over 1.9 metres tall and has been called up to multiple national teams.
Zhang was already 1.6 metres tall when she started primary school. She grew 10 centimetres every year until she graduated from primary school at 2.11 metres, making her stand out among her classmates. Zhang enlisted as a student athlete at Tsinghua University Middle School, which is known for its basketball squad, in the hopes of one day anchoring China's women's basketball team and writing her own storey as the "next Yao Ming."
Sources:Wikipedia, Earth&World