Andrew Jackson is one of the most significant figures in American history. As a general, the seventh president of the United States, and the founder of what became the Democratic Party, he has had a great impact on American politics. However, there are many things you may not know about this former president.
These are some facts that will make you rethink everything you know about him.
1. Andrew Jackson's early life.
Andrew Jackson was born on March 15, 1767, near the boundary of North and South Carolina. He gained a reputation for his bravery, fun, and fiery temper. Andrew and Elizabeth Jackson, Jackson's parents, sailed from Carrickfergus, Ireland, with their two sons Hugh and Robert, for America in 1765. Following the Battle of Stone Ferry in 1779, Hugh died of heatstroke, while Robert died of smallpox in 1781.
2. Andrew Jackson was a prisoner of war during the American Revolutionary War.
Jackson enlisted in the Continental Army as a courier at the age of 13 during the Revolutionary War. He and his brother Robert were taken in April 1781. Jackson refused to clean his boots when a British officer told him to do so. The enraged Redcoat took his sword and cut Jackson's left hand to the bone, leaving a lasting scar. After two weeks of inhumane treatment in prison, the British released the brothers, but Robert died soon after from an illness suffered while imprisoned.
3. Andrew Jackson was a self-taught frontier lawyer.
After being orphaned during the Revolutionary War, Jackson was taken up by his uncles. He began studying law in his teens, passed the bar at the age of 20, and went on to become a prominent frontier lawyer. Jackson was later named solicitor of North Carolina's western district. He was a judge on the Tennessee Supreme Court until 1804 after resigning as a Senator.
4. He was the first president to be assassinated.
On January 30, 1835, while Jackson was leaving the United States Capitol after a memorial service for a legislator, a crazed house painter called Richard Lawrence fired a gun at him from mere feet away.
Lawrence pulled out a second handgun and pushed the trigger after his first gun misfired. That gun also went off the rails. As the shooter was neutralised, an outraged Jackson attacked Lawrence with his cane.
5. Jackson amassed wealth from the cotton trade and the ownership of slaves.
In 1804 he purchased The Hermitage farm in Tennessee, where he already had nine slaves. The property had more than 150 slaves when Jackson left Tennessee to become president.
6. Andrew Jackson was elected president three times by the people.
In gaining the president in 1828, Jackson received about 56 percent of the popular vote, and in his reelection four years later, he came close to matching that figure. In his first presidential campaign in 1824, "Old Hickory" received the most popular votes, but not a majority.
Due to the fact that no candidate got a majority of electoral votes, the 1824 election was determined by the House of Representatives, which chose John Quincy Adams through a "corrupt bargain" with House Speaker Henry Clay.
7. In a duel, Jackson killed a man.
In a duel, Jackson murdered a man, and he was involved in at least a dozen more over his career. In a fight over a horse-racing bet in 1806, Jackson escaped a shot to the chest intended to kill Charles Dickinson. Dickinson was known as Tennessee's finest shot, but Jackson came out on top. The bullet, on the other hand, was never extracted from Jackson and caused him lifelong misery. In addition, Jackson was involved in a legendary firefight with Thomas Hart Benton.
8. Andrew Jackson was a military leader who learned on his own.
Jackson got involved in Tennessee's state militia, winning an election in 1802 to succeed John Sevier, another Revolutionary War veteran, as militia commander. His success in the Battle of Horseshoe Bend in 1814, coupled with that of his militia, earned him a commission in the United States Army, where he beat the British at New Orleans.
9. Jackson was unaware that he married his wife before she had legally divorced her first husband.
In the 1780s, Jackson moved to Nashville, Tennessee, and fell in love with Rachel Donelson Robards, who was unhappily married. Robards married Jackson after she divorced her husband and believed she had been granted a valid divorce.
In reality, her divorce was still pending, and her first husband accused her of adultery. Although Jackson formally remarried Robards in 1794, the scandal resurfaced during the turbulent 1828 presidential campaign, when Jackson's political opponents propagated rumours about his wife's alleged adultery.
10. He took in two native American boys as his sons.
President Jackson adopted two Native American children during the Creek War in 1813–1814, while leading military battles against the Creeks and Seminoles and signing the Indian Removal Act as president.
Jackson returned to Rachel a baby orphan named Theodore, who died in 1814, and a youngster named Lyncoya, who was discovered on a battlefield in his dead mother's arms. In 1828, months before Jackson's election, Lyncoya died of tuberculosis.
11. Later years of Andrew Jackson.
Jackson moved to his property, The Hermitage, outside Nashville, following the inauguration of Martin Van Buren, Jackson's second-term vice president, which was now staffed by roughly 150 slaves and administered by his adoptive son, Andrew Jackson, Jr.
Despite his retirement from public life, he remained politically powerful. He used his clout to help Texas gain admission to the Union in 1845 and to help his protégé, James K. Polk, win the presidential election in 1844. Jackson's health deteriorated dramatically between 1844 and 1845, as he battled chronic pains, infections, and diseases, and he died on June 8, 1845, at the age of 78, and was buried in the Hermitage's garden.
12. Andrew Jackson has appeared on banknotes in the United States.
Jackson has been on US banknotes since 1869 and well into the twenty-first century. His image can be found on the $5, $10, $20, and $10,000 bills. Since 1928, his image has been on the $20 Federal Reserve Note in the United States.
13. Equestrian statues of the United States President Andrew Jackson.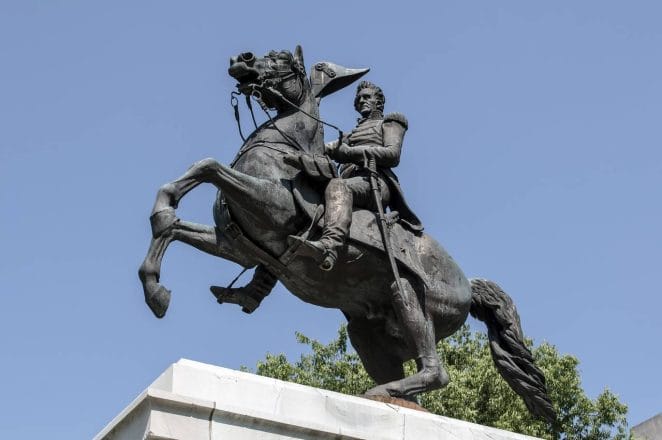 A series of four similar equestrian statues by sculptor Clark Mills can be seen in Lafayette Square in Washington, D.C.; Jackson Square in New Orleans; the Tennessee State Capitol grounds in Nashville; and Jacksonville, Florida. Other equestrian monuments of Jackson have been placed elsewhere, such as on the grounds of the North Carolina State Capitol in Raleigh.