St. Patrick's Day is the day when we all wear green and party like it's our birthday. But did you know that the holiday is actually a religious celebration? With all the drinking, parades, and green-colored clothing, it's hard to know where to start when it comes to St. Patrick's Day. What exactly is it? When did it start? And what are some of the reasons behind this holiday? This article lists some interesting facts about St. Patrick's Day, including its origins, traditions, and superstitions.
Here are some of the facts you should know about St. Patrick's day!
1. St. Patrick's Day is observed on March 17th each year and is a national holiday in Ireland.
Patrick's Day commemorates the death of Saint Patrick, Ireland's patron saint. With parades, special dishes, music, dancing, drinking, and a lot of green, the event has evolved into a celebration of Irish culture. The first documented celebrations took place in the 17th century on March 17, commemorating St. Patrick's death in the 5th century. Banks, stores, and businesses all close for the day on St. Patrick's Day, an Irish national holiday.
2. St. Patrick wasn't an Irishman in the first place.
St. Patrick, the patron saint of Ireland, is thought to have been born to Roman parents in Scotland or Wales in the late fourth century, according to historians. He was abducted by Irish raiders at the age of 16 and sold as a slave to a Celtic priest in Northern Ireland. He escaped to Britain after working as a shepherd for six years. As a Christian missionary, he eventually returned to Ireland.
3. There were no snakes in Ireland for St. Patrick to banish.
In fact, evidence reveals that snakes never ever set foot on the Emerald Isle. Snakes have not been found in the country's fossil record. Since the last glacial epoch, water has enveloped Ireland. The area had previously been covered in ice, making it too cold for the reptiles to survive.
4. Originally, the colour of St. Patrick's Day was blue.
In the past, St. Patrick's Day was thought of as a time to wear blue, but now green is a common sight. The switch to green is believed to have occurred as a result of Ireland's moniker "The Emerald Isle," the green colour of the Irish flag, and the shamrock, or clover. Color green didn't become associated with the big day until the late 1800s, when it was linked to Ireland's fight for independence from Britain.
5. The shamrock is an Irish symbol as well as a symbol of Saint Patrick's Day.
For generations, the shamrock, a three-leaf clover, has been connected with Ireland. The Celts referred to it as "seamroy," and it was regarded as a sacred plant that heralded the approach of spring.
According to legend, when describing the Holy Trinity, St. Patrick utilised the plant as a visual aid. The shamrock had become a symbol of growing Irish nationalism by the 17th century. Each clover leaf, according to legend, has a different meaning: Hope, Faith, Love, and Luck.
6. A leprechaun is one of the most popular costumes for St. Patrick's Day.
St. Patrick's Day is often associated with the red-haired, green-clothed Leprechaun. These folkloric figures were originally known as "lobaircin," which means "small-bodied fellow" in Irish. The idea in leprechauns is likely derived from the Celtic belief in fairies, who were small men and women with magical abilities that could be used for good or evil.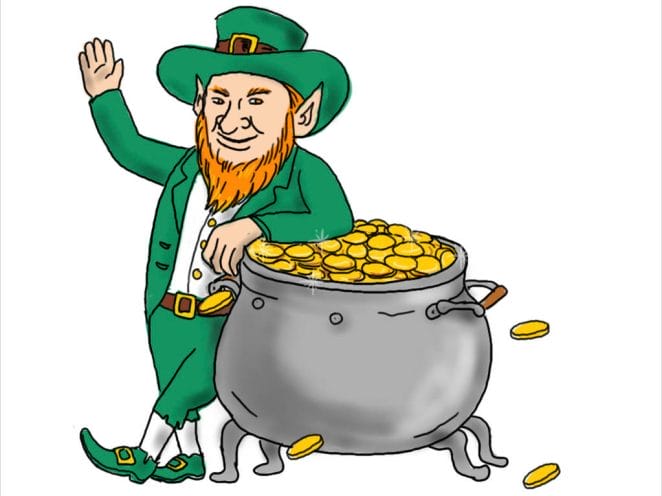 Leprechauns were grumpy souls that were in charge of fixing the other fairies' shoes in Celtic folklore. They are rumoured to have a pot of gold hidden someplace, and if you capture a leprechaun, he must reveal its whereabouts.
Quiz: St.Patrick's Day Quiz & Trivia
7. Female leprechauns do not exist.
There are no female leprechauns in traditional Irish folk stories. In Irish legend, there is no mention of a female counterpart to the leprechauns, nor is it known how they reproduce, according to the book "A History of Irish Fairies."
8. The first St. Patrick's Day parade was held in America, not in Ireland.
On March 17, 1601, a St. Patrick's Day procession was held at a Spanish colony in what is now St. Augustine, Florida, according to records. Ricardo Artur, the Spanish Colony's Irish vicar, arranged the march and a St. Patrick's Day event a year earlier.
9. The St. Patrick's Day parade in New York City has been going on since 1762.
The St. Patrick's Day Parade in New York City is the oldest civilian parade in the world and the largest in the United States. Since 1762, around 250,000 marchers have walked up 5th Avenue, with no floats, cars, or other contemporary trappings allowed.

Parades with 10,000 to 20,000 participants are held in Boston, Chicago, Philadelphia, and Savannah, among other cities. As a result of the COVID-19 epidemic, the parade was cancelled for the first time in its centuries-long existence in 2020, and it was cancelled again in 2021.
10. Chicago turns the river green for a few hours to commemorate St. Patrick's Day.
Since 1962, the city has been throwing green dye into the Chicago River to commemorate St. Patrick's Day. The orange powder used is disseminated using flour sifters by the local Plumbers Union, though the organisers will not share their specific composition.
11. St. Patrick was never declared a saint by the Catholic Church.
Patrick may be known as Ireland's patron saint, but he was never canonised by the Catholic Church. This is just owing to the time period in which he lived. The Catholic Church did not have a formal canonization process during the first millennium. Patrick was most likely declared a saint by popular acclaim after becoming a priest and assisting in the spread of Christianity throughout Ireland.
12. More countries commemorate St. Patrick's Day than any other national holiday.
Saint Patrick's Day is a public holiday in Ireland, Northern Ireland, Newfoundland and Labrador, and Montserrat, a British Overseas Territory. It is also commonly observed in Ireland, the UK, Canada, the US, Brazil, Argentina, Australia, and New Zealand. Saint Patrick's Day is more widely observed than any other national holiday.