The year 2019 was marked by a number of significant events. The year marked the end of a decade marked by extreme worldwide heat. It was the year when carbon dioxide levels reached their greatest point, effectively locking in climate change. Abnormal flood levels, hurricanes, earthquakes, and a heatwave were among the deadliest meteorological disasters that year. Typhoon Lekima struck China, killing 72 people, and Typhoon Hagibis struck Japan, killing 86 people. Tropical hurricane Idai killed 602 people in Mozambique and 299 in Zimbabwe, claiming almost 900 lives across Africa. When temperatures in India exceeded 120 degrees Fahrenheit, 90 people died as a result of the heatwave. Furthermore, when temperatures in Japan reached 105 degrees Fahrenheit, more than 160 people died.
Several films by filmmaking superstars Quentin Tarantino, Martin Scorsese, and Greta Gerwig were released in the entertainment sector. The Irishman, Once Upon a Time in Hollywood, and Little Women are among them. Vampire Weekend's Father of the Bride, Jessica Pratt's Quest Signs, and William Tyle's Goes West were among the year's new music releases.
In the realm of aviation, there were 257 fatalities in 2018, down from 534 in 2018. Six people died as a result of the occurrences. The deadliest was Ethiopian Airlines Flight ET302, which crashed near Bishofu, Ethiopia, on March 10, 2019, killing all 157 persons on board. On May 5, 2019, the Sukhoi Superjet 100-95B caught fire while landing, killing all 78 people on board. In 2019, a number of important people from around the world died. Bob Einstein, Carol Channing, Kristoff St. John, Frank Robinson, Luke Perry, Don Imus, and Eddie Money are just a few of the names on the list.
The political scene was characterised by unprecedented developments. President Donald Trump made history when he travelled to North Korea for nuclear talks, but the talks fell through. In the middle of the year, the Duke and Duchess of Sussex welcomed a baby boy. The House of Commons voted three times against the Brexit plan, compelling Theresa May to quit and replacing her with Boris Johnson as Prime Minister. On December 20, Parliament overwhelmingly approved Brexit, and the United Kingdom would leave the European Union by January 31, 2020. The United States House of Representatives impeached President Donald Trump at the end of the year.
Continue reading to discover more about the events of 2019.

Event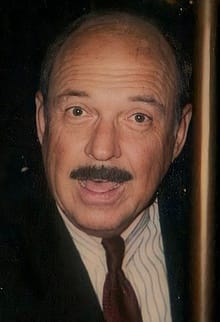 (January 02, 2019)
Eugene Arthur Okerlund, as "Mean" Gene Okerlund, was an American professional wrestler and television host. He was most known for his work in the WWF (now WWE) and WCW (World Championship Wrestling). Hulk Hogan voted Okerlund into the WWE Hall of Fame in 2006. A lifelong WWE contract, he later worked for promotional initiatives. photo source: wikimedia.org
(Died on January 18, 2019)
John Coughlin, American figure skater (b. 1985).
(Died on January 24, 2019)
Rosemary Bryant Mariner, American United States Naval Aviator (b. 1953).
(Died on January 29, 2019)
James Ingram, American musician (b. 1952).
(Died on February 07, 2019)
Frank Robinson, American baseball player, coach, and manager (b. 1935).
(February 12, 2019)
The Republic of Macedonia formally changed its name to the Republic of North Macedonia under the conditions of the Prespa Agreement (2018).
(Died on February 16, 2019)
Bruno Ganz, Swiss actor (b. 1941).
(Died on February 18, 2019)
Alessandro Mendini, Italian designer and architect (b. 1931).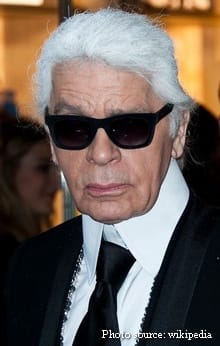 (February 19, 2019)
Karl Lagerfeld, the German fashion designer and photographer who spearheaded the modern resurrection of Chanel, the iconic French fashion house founded by Coco Chanel in the early twentieth century, passed away in Paris.
(Died on February 27, 2019)
France-Albert René, Seychellois politician, 2nd President of Seychelles (b. 1935).
(Died on March 01, 2019)
Mike Willesee, Australian journalist and producer (b. 1942).
(Died on March 02, 2019)
Mike Oliver, British sociologist, disability rights activist (b. 1945).
(Died on March 14, 2019)
Haig Young, Canadian politician (b. 1928).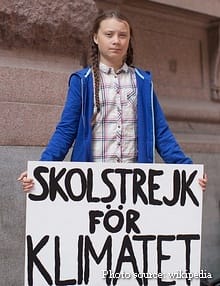 (March 15, 2019)
Fridays for Future, a movement initiated by Swedish environmental activist Greta Thunberg, drew more than 1.5 million students from all around the world to protest climate change.
(Died on March 16, 2019)
Dick Dale, American surf-rock guitarist, singer, and songwriter (b. 1937).
(March 29, 2019)
Agnès Varda, a pioneering French director who influenced the New Wave movement with her revolutionary films, died at the age of 90.
(Died on March 29, 2019)
Agnès Varda, French film director (b. 1928).
(Died on April 01, 2019)
Vonda N. McIntyre, American science fiction author (b. 1948).
(April 10, 2019)
The first image of a black hole, which is at the heart of the huge galaxy M87, was revealed by astronomers.
(Died on April 14, 2019)
Bibi Andersson, Swedish actress (b.1935).
(April 15, 2019)
During a renovation project, the mediaeval Notre-Dame de Paris caught fire, destroying the cathedral's roof, 19th-century spire, and some rib vaulting.
(Died on April 17, 2019)
Alan García, Peruvian lawyer and politician, 61st and 64th President of Peru (b. 1949).
(Died on April 18, 2019)
Lyra McKee, Irish journalist (b. 1990).
(Died on April 21, 2019)
Polly Higgins, Scottish barrister, author and environmental lobbyist (b. 1968).
(April 25, 2019)
John Havlicek, an NBA "sixth man" (bench player) who died at the age of 79, was the best "sixth man" (bench player) in NBA history.
(Died on April 25, 2019)
John Havlicek, American basketball player (b. 1940).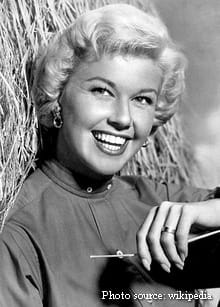 (May 13, 2019)
Doris Day, an American singer and actress best known for her roles in movie musicals in the 1950s and sex comedies in the early 1960s, died at the age of 93.
(Died on May 13, 2019)
Unita Blackwell, American civil rights activist and politician (b. 1933).
(Died on May 14, 2019)
Tim Conway, American actor, writer, and comedian (b. 1933).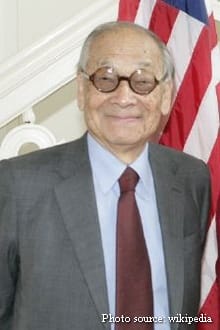 (May 16, 2019)
I.M. Pei, a Chinese-American architect noted for his massive, elegantly planned metropolitan buildings and complexes, died at the age of 102.
(Died on May 20, 2019)
Niki Lauda, Austrian race car driver (b. 1949).
(Died on May 30, 2019)
Jason Marcano, Trinidadian footballer (b. 1983).
(Died on June 01, 2019)
Ani Yudhoyono, Indonesian politician, 6th First Lady of Indonesia. (b. 1952).
(Died on June 08, 2019)
Andre Matos, Brazilian heavy metal musician (b. 1971).
(Died on June 09, 2019)
Bushwick Bill, Jamaican-American rapper (b. 1966).
(Died on June 12, 2019)
Sylvia Miles, American actress (b. 1924).
(Died on June 15, 2019)
Franco Zeffirelli, Italian film director (b. 1923).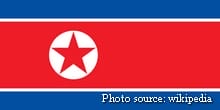 (June 30, 2019)
President Donald Trump marched into North Korea to greet Kim Jong-Un while at the DMZ, making him the first sitting US president to visit the country.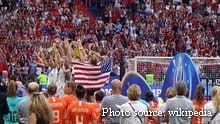 (July 07, 2019)
The United States women's football (soccer) team defeated the Netherlands to win their fourth World Cup, led by Megan Rapinoe.
(Died on July 09, 2019)
Freddie Jones, English actor (b. 1927).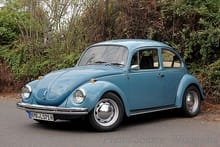 (July 10, 2019)
Volkswagen, a German carmaker, has stopped producing the Beetle, whose initial model was unveiled in 1938.
(Died on July 19, 2019)
Rutger Hauer, Dutch actor, director, and producer (b. 1944).
(July 22, 2019)
Chandrayaan 2, the second lunar exploration project created by the Indian Space Research Organisation following Chandrayaan 1, is launched by a GSLV Mark III M1 from the Satish Dhawan Space Centre. It is comprised of a lunar orbiter, the Vikram lander, and the Pragyan lunar rover.
(September 06, 2019)
Robert Mugabe, a Zimbabwean politician who served as Prime Minister from 1980 to 1987 and President from 1987 to 2017, died at the age of 95.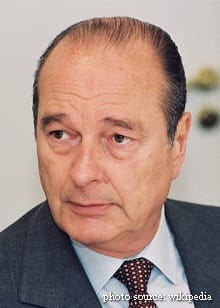 (September 26, 2019)
Jacques Chirac, a French politician who served as president of France from 1995 to 2007, passed away at the age of 86.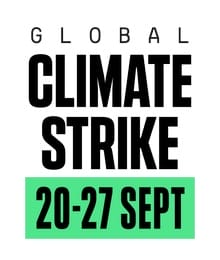 (September 27, 2019) Over two million people took part in climate change protests in 2,400 places around the world during a week of international youth-led climate change protests, including Swedish activist Greta Thunberg. photo source: wikimedia.org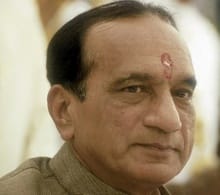 (Died on October 25, 2019)
Dilip Parikh, Indian politician (b. 1937).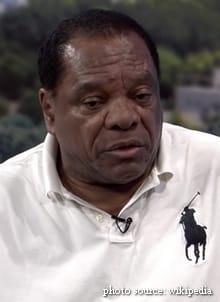 (Died on October 29, 2019)
John Witherspoon, American actor and comedian (b. 1942).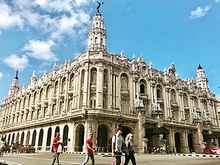 (November 16, 2019)
Havana, Cuba, celebrated its 500th anniversary. The commemoration included a large restoration and infrastructure programme that included the restoration of prominent landmarks as well as many of the city's stores and businesses. photo source: wikimedia.org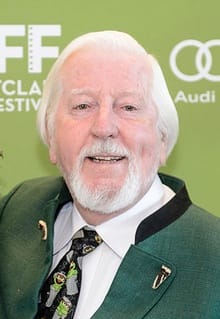 (December 08, 2019)
Caroll Spinney, an American actor and puppeteer, died at the age of 85. Spinney created the characteristics and mannerisms of Big Bird, which he played for nearly 50 years. photo source: wikimedia.org
(Died on December 08, 2019)
Caroll Spinney, American puppeteer and actor (b. 1933).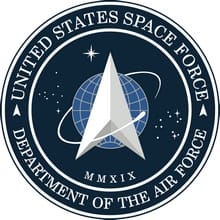 (December 20, 2019)
Since 1947, the United States Space Force has been the first new branch of the US Armed Forces. photo source: wikimedia.org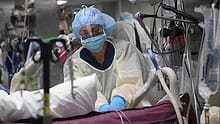 (December 31, 2019)
Wuhan, China, was where the World Health Organization first became aware of "viral pneumonia" cases. COVID-19, the virus that caused the disease, went on to cause a worldwide pandemic the following year. photo source: wikimedia.org