Today in History

JAN
FEB
MAR
APR
MAY
JUN
JUL
AUG
SEP
OCT
NOV
DEC

Learn about the most intriguing events and historical facts that occurred on October 23 throughout history. The 296th day of the Gregorian calendar is October 23rd. On this day, Chechen terrorists raided Moscow's House of Culture Theatre and kidnapped over 700 people; in response to a subpoena, President Nixon agreed to hand over tapes of his White House discussions, and the Fight of Edgehill, the English Civil War's first battle, began.
Scorpio is the zodiac sign for October 23. Pele and Johnny Carson are two famous people that were born on October 23rd. Today is National Slap Your Coworker Day and National Boston Cream Pie Day.

Event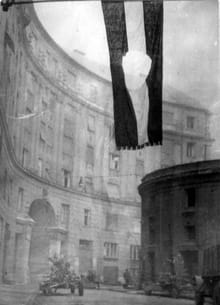 (October 23, 1956)
The Hungarian Revolution is sparked after secret police shoot numerous anti-communist protesters. In Budapest, Hungary, tens of thousands of people come to the streets to demand the end of Soviet control. photo source: wikimedia.org
(October 23, 1983)
At the Beirut International Airport in Lebanon, a suicide vehicle bomber killed 241 US Marines and sailors in 1983, while 58 French paratroopers were killed in a near-simultaneous attack. photo source: wikimedia.org
(October 23, 1998)
With the release of her single...Baby One More Time, American singer Britney Spears became a pop star. The song was backed by a Lolita-like music video. photo source: wikimedia.org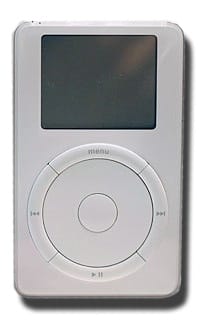 (October 23, 2001)
The iPod, a portable media player introduced by Apple, became one of the most successful and revolutionary items of the early 2000s. photo source: wikimedia.org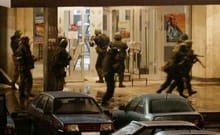 (October 23, 2002)
Fifty Chechen insurgents stormed a Moscow theatre, capturing 700 hostages. The rebels, who had bombs strapped to their bodies, demanded that Soviet forces leave Chechnya. Three days later, after the deaths of two hostages, Russian Special Forces attacked the building, killing the majority of the terrorists as well as 120 captives. photo source: wikimedia.org
(October 23, 2003)
Soong Mei-ling died at the age of 106. She was the second wife of Nationalist Chinese President Chiang Kai-shek and a significant political figure in her own right. photo source: wikimedia.org
(Died on October 23, 2018)
Todd Reid, Australian tennis player (b. 1984).