Today in History

JAN
FEB
MAR
APR
MAY
JUN
JUL
AUG
SEP
OCT
NOV
DEC

Learn about the most intriguing events and historical facts that occurred on October 20 throughout history. The 293rd day of the Gregorian calendar is October 20th. On this day, a plane carrying the rock band Lynyrd Skynyrd crashed, killing lead singer Ronnie Van Zant and guitarist Steve Gaines; former First Lady Jacqueline Kennedy married Greek shipping magnate Aristotle Onassis; and the Louisiana Purchase was authorised by the United States Senate.
The 20th of October falls under the sign of Libra. Famous people born on October 20th include rapper Snoop Dogg and actor Bela Lugosi. Today is National Sloth Day and Sweetest Day.

Event
(October 20, 1927) Pirates posing as passengers boarded the Chinese ship Irene, which was manned by British officers. They took control and sailed out to sea, where they were met by two British submarines who requested that they stop and surrender. When the pirates refused to surrender, the submarines fired two torpedoes into the ship's hold, causing it to come to a halt and begin sinking. The passengers and crew were eventually rescued by the British ship. photo source: wikimedia.org
(October 20, 1967) Hunters Roger Patterson and Bob Gimlin are said to have videotaped the mythical creature, resulting in the "Patterson footage." photo source: wikimedia.org
(October 20, 1973)
On this date in 1973, Queen Elizabeth II officially opened Australia's Sydney Opera House, which was built by Danish architect Jørn Utzon and won an international competition in 1957. photo source: wikimedia.org
(October 20, 1973) President Nixon disbanded the office of special Watergate prosecutor Archibald Cox, accepted Attorney General Elliot L. Richardson's resignation, and fired Deputy Attorney General William B. Ruckelshaus in the so-called Saturday Night Massacre of 1973. photo source: wikimedia.org
(October 20, 1986) The pilot of Aeroflot Flight 6502, a Soviet passenger jet, bets his co-pilot that he can land the plane with the cockpit windows closed, necessitating an instrument-only approach. The jet flipped upside down after landing at 150 knots (280 km/h, 174 mph). The accident claimed the lives of seventy persons. On the way to the hospital, the co-pilot died of heart arrest. The pilot was charged with a crime and sentenced to six years in prison. photo source: wikimedia.org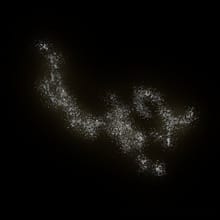 (October 20, 2003) Princeton University scholars find the Sloan Great Wall, which was once the world's greatest cosmological structure. photo source: wikimedia.org
(Died on October 20, 2020)
James Randi, Canadian-American stage magician and author (b. 1928).