Today in History

JAN
FEB
MAR
APR
MAY
JUN
JUL
AUG
SEP
OCT
NOV
DEC

On July 7, learn about the most interesting historical events and facts that occurred throughout history. In the Gregorian calendar, July 7th is the 188th day of the year. On this day, an Act of Parliament establishes the British Museum, the reported and disputed Roswell UFO episode happens, and terrorist bomb blasts hit London's public transportation system, killing 52 people and wounding 700 more.
The 7th of July falls under the sign of Cancer. Ringo Starr, MS Dhoni, and Jim Gaffigan all have famous birthdays. It's National Strawberry Sundae Day today.

Event
(July 07, 1863)
The first military draft in the United States begins; exemptions cost $300.
(July 07, 1898)
On this day in 1898, President William McKinley signed a joint resolution annexing Hawaii, setting the path for the islands to become a territory (1900) and then a US state (1959).
(July 07, 1928)
The Chillicothe Baking Company in Chillicothe, Missouri, sells sliced bread for the first time.
(July 07, 1930)
Henry J. Kaiser, an industrialist, begins work on the Hoover Dam.
(July 07, 1946)
Mother Francesca S. Cabrini is canonised as the first American.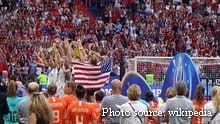 (July 07, 2019)
The United States women's football (soccer) team defeated the Netherlands to win their fourth World Cup, led by Megan Rapinoe.
(Died on July 07, 2021)
Jovenel Moïse, Haitian entrepreneur and politician, President of Haiti from 2017 until July 7 2021, when he was assasinated. (b. 1968).