Today in History

JAN
FEB
MAR
APR
MAY
JUN
JUL
AUG
SEP
OCT
NOV
DEC

On July 3, learn about the most interesting events and historical facts from across history. In the Gregorian calendar, July 3rd is the 184th day of the year. The Roman Emperor Constantine I overcomes his co-emperor Licinius on this day, and Dow Jones publishes its first stock index.
The 3rd of July falls under the sign of Cancer. Franz Kafka, Tom Cruise, Olivia Munn, Julian Assange, and Sebastian Vettel all have famous birthdays. National Stay Out of the Sun Day is today.

Event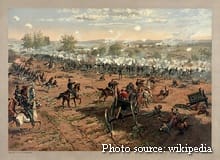 (July 03, 1863)
The Battle of Gettysburg finished on this day in 1863 with a Union victory and was viewed as a turning point in the American Civil War after three days of fierce warfare with over 50,000 deaths.
(July 03, 1886)
Karl Benz officially reveals the first purpose-built automobile, the Benz Patent-Motorwagen.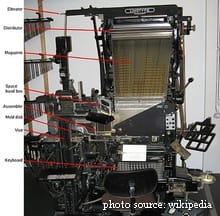 (July 03, 1886)
The New York Tribune is the first newspaper to adopt a linotype machine, thereby eliminating hand typesetting.
(July 03, 1938)
The Mallard sets the world speed record for a steam locomotive, reaching 125.88 miles per hour (202.58 km/h) in England.
(July 03, 1985)
Back to the Future, directed by Robert Zemeckis and starring Michael J. Fox as Marty McFly, was premiered in American theatres; it was a big hit, and several sequels followed.
(Died on July 03, 2020)
Saroj Khan, Indian dance choreographer (b. 1948).