Today in History

JAN
FEB
MAR
APR
MAY
JUN
JUL
AUG
SEP
OCT
NOV
DEC

On April 2, learn about the most interesting events and historical facts from across history. The 92nd day of the Gregorian calendar is April 2nd, which commemorates Ludwig van Beethoven's First Symphony premiere and the launch of LexisNexis, a computerised legal research service.
Aries is the zodiac sign for April 2nd. Marvin Gaye, Lee DeWyze, Jesse Plemons, and Quavo are all born on April 2nd. The 2nd of April is also World Autism Awareness Day and National Peanut Butter and Jelly Day.

Event
(April 02, 1917)
President Woodrow Wilson of the United States requested a declaration of war against Germany from Congress.
(April 02, 1982)
The Falkland Islands (Islas Malvinas) were taken by Argentine troops, sparking the Falkland Islands War with Britain.
(April 02, 1992)
John Gotti, the American organised crime boss, was sentenced to life in prison after being convicted of 13 criminal counts, including the murder of Paul Castellano and others, racketeering, and obstruction of justice.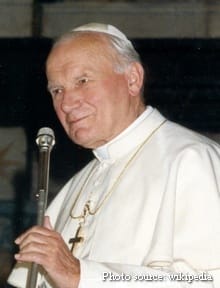 (April 02, 2005)
Pope John Paul II, the first non-Italian pope in 455 years and the first from a Slavic country, died on this day in 2005 in Vatican City as Bishop of Rome and head of the Roman Catholic Church.
(April 02, 2015)
Manoel de Oliveira, a Portuguese director noted for his richly introspective and often self-reflexive films influenced by literary and theatrical works, died at the age of 106.
(Died on April 02, 2021)
Simon Bainbridge, British composer (b. 1952).