1916 was the start of another year in the First World War, which would last until November 1918. The disastrous Gallipoli Campaign came to a close at this near-midpoint in the war. As Allied soldiers withdrew from the battlefield to Egypt, the Ottoman Empire secured a huge victory over the Allies on the Gallipoli peninsula. For Turks, Australians, and New Zealanders, the campaign has a specific cultural value because it helped them develop a feeling of national identity. On Anzac Day, named after the Australian and New Zealand Army Corps that fought during the Gallipoli Campaign, Australia and New Zealand honour its veterans who served in all conflicts.
As one major campaign came to an end, a new one began. The Battle of the Somme began on the war's western front. In order to bring the war to a finish, the French and British forces launched an offensive assault against the German Empire. This would eventually become the war's largest combat on the western front, as well as one of the bloodiest battles in recorded history, with over one million soldiers killed or wounded. The battle's conclusion has been hotly debated, as Allied forces did push the German lines back, albeit only a few miles. All of the war's bloodshed had at least one silver lining this year, as the British Army made the first successful blood transfusion using stored and refrigerated blood.
Boeing was started this year, as was BMW. The infamous Jersey Shore shark attacks occurred in 1916, when five swimmers were attacked by at least one shark off the shore of New Jersey.
Several decades later, Peter Benchley would use these attacks as inspiration for his film Jaws. A circus elephant was hanged in Erwin, Tennessee, for killing her handler, Walter Eldridge, in another odd development in popular culture. Jim Barnes, a golfer, became the first person to win the PGA Championship.
Continue reading to find out more about the events of 1916.

Event
(February 21, 1916)
The Battle of Verdun, one of World War I's most devastating battles, begins.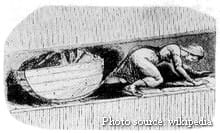 (February 29, 1916)
The minimum working age for factory, mill, and mine workers in South Carolina has been raised from 12 to 14 years old.
(June 05, 1916)

Louis Brandeis is sworn in as the first American Jew to serve as a Justice of the United States Supreme Court.
(June 15, 1916)
President Woodrow Wilson of the United States signs a bill incorporating the Boy Scouts of America, giving them the only youth organisation in the United States with a federal charter.
(June 24, 1916)
Mary Pickford signs the first million-dollar contract for a female cinema star.
(September 15, 1916)
During World War I, the British used the tank for the first time in action, at the Battle of the Somme. photo source: wikimedia.org