Today in History

JAN
FEB
MAR
APR
MAY
JUN
JUL
AUG
SEP
OCT
NOV
DEC

On November 16, learn about the most interesting events and historical facts from across history. The 320th day of the Gregorian calendar is November 16th. On this day, the Grammy Award for Milli Vanilli was revoked after it was discovered that they didn't do any of the singing on the Grammy-winning song; the United States and the Soviet Union established diplomatic ties; and the Federal Reserve Bank opened its doors.
The 16th of November falls under the sign of Scorpio. Martha Plimpton, an actress, and Paul Scholes, an English footballer, both have November 16th birthdays. National Button Day and National Fast Food Day are also celebrated today.

Event
(November 16, 1920)
Qantas, the national airline of Australia, is founded as Queensland and Northern Territory Aerial Services Limited. photo source: wikimedia.org
(November 16, 1920)
Commercial use of the Model M Postage Meter began. Pitney-Bowes Postage Meter Company was founded in April 1920 by American inventor Arthur Pitney and industrialist Walter Bowes. They collaborated on the first postage metre in the United States. photo source: wikimedia.org
(November 16, 1973)
President Richard Nixon signed the Trans-Alaska Pipeline Authorization Act, and the pipeline, which connects the oil fields of Prudhoe Bay in northern Alaska to the port of Valdez, became operational four years later. photo source: wikimedia.org
(November 16, 1988)
On this day in 1988, Benazir Bhutto was elected Prime Minister of Pakistan, becoming the first woman to lead a Muslim country in modern history. She served as Prime Minister from 1988 to 1990 and again from 1993 to 1996. photo source: wikimedia.org
(November 16, 2015)
The fourth largest diamond was discovered in Botswana's Karowe Mine. The diamond is 1.11 carats and is named Lesedi La Rona. photo source: wikimedia.org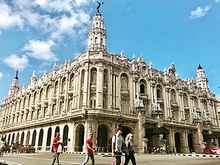 (November 16, 2019)
Havana, Cuba, celebrated its 500th anniversary. The commemoration included a large restoration and infrastructure programme that included the restoration of prominent landmarks as well as many of the city's stores and businesses. photo source: wikimedia.org
(Died on November 16, 2019)
John Campbell Brown, Scottish astronomer (b. 1947).