Today in History

JAN
FEB
MAR
APR
MAY
JUN
JUL
AUG
SEP
OCT
NOV
DEC

On November 13, learn about the most interesting events and historical facts from across history. The 317th day of the Gregorian calendar is November 13th. On this day, Swedish voters decided to join the European Union; the United States Supreme Court declared forced segregated school busing in Alabama illegal, putting an end to the Montgomery Bus Boycott; and the Holland Tunnel, which connects New Jersey and New York City, opened beneath the Hudson River.
The 13th of November falls under the sign of Scorpio. Jimy Kimmel and Whoopi Goldberg both have November 13th birthdays. It's World Kindness Day today.

Event
(November 13, 1940)
Fantasia, an animated picture, had its first public showing, and it quickly became one of Disney's most divisive works, mocked for its foreboding and praised for its astonishing visual brilliance. photo source: wikimedia.org
(November 13, 1954)
In front of roughly 30,000 fans, Great Britain defeats France to win the first ever Rugby League World Cup in Paris. photo source: wikimedia.org
(November 13, 1985)
The volcano Nevado del Ruiz erupts and melts a glacier, resulting in a lahar (volcanic mudslide) that burys Armero, Colombia, killing 23,000 people. photo source: wikimedia.org
(November 13, 1995)
Mozambique joins the Commonwealth of Nations for the first time, despite never having been a part of the former British Empire. photo source: wikimedia.org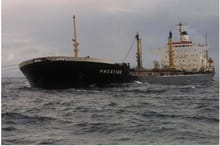 (November 13, 2002)
A storm explodes a tank of the oil tanker MV Prestige, which was not allowed to dock and sank off the coast of Galicia on November 19, 2002, spilling 63,000 metric tonnes of heavy fuel oil, more than the Exxon Valdez oil spill. photo source: wikimedia.org
(Died on November 13, 2017)
Bobby Doerr, American baseball player and manager (b. 1918).