Today in History

JAN
FEB
MAR
APR
MAY
JUN
JUL
AUG
SEP
OCT
NOV
DEC

On March 6, learn about the most interesting events and historical facts from across history. The Gregorian calendar's sixty-fifth day (sixty-sixth in leap years) marks the anniversary of the Treaty of Paris of 1323, as well as the signing of the Missouri Compromise, which allowed Missouri to join the Union as a slave state, brought Maine into the Union as a free state, and made the entire northern part of the Louisiana Purchase territory slave-free.
Pisces is the zodiac sign for March 6th. Mary Wilson, Rob Reiner, Connie Britton, and Shaquille O'Neal are all born on March 6th. National Dentist's Day, National Dress Day, National Frozen Food Day, and National Oreo Cookie Day all fall on March 6th.

Event
(March 06, 1899)
The name Aspirin was trademarked by the German corporation Bayer for a medication produced from acetylsalicylic acid.
(March 06, 1924)
The Egyptian authorities unsealed the mummy case of King Tutankhamen, monarch of Egypt in the 14th century BC, whose burial chamber had been found by famed British archaeologist Howard Carter in 1922.
(March 06, 1957)
Ghana is the first country in Sub-Saharan Africa to declare independence from the British.
(March 06, 1986)
Georgia O'Keeffe, an American painter most renowned for her large-format paintings of natural forms, particularly flowers and bones, died at the age of 98.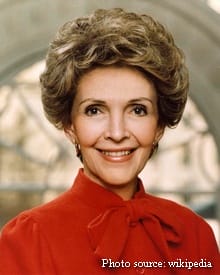 (March 06, 2016)
Nancy Reagan, the first lady of the United States and an actress, died in Los Angeles. She served as first lady during the 1981–89 administration of her husband, President Ronald Reagan, and was known as his most trusted adviser and fierce protector of his reputation.
(Died on March 06, 2021)
Graham Pink, British nurse (b. 1929).