Today in History

JAN
FEB
MAR
APR
MAY
JUN
JUL
AUG
SEP
OCT
NOV
DEC

On February 9, learn about the most interesting events and historical facts that occurred throughout history. The Gregorian calendar's 40th day is February 9th. On this day, Jefferson Davis was elected president of the Confederate States of America, the Mud March was held by the National Union of Women's Suffrage Societies, and Haley's Comet made its final appearance.
Aquarius is the zodiac sign for February 9th. Michael B. Jordan, Joe Pesci, and Mia Farrow all have famous birthdays. National Toothache Day and National Pizza Day both fall on February 9th.

Event
(February 09, 1796)
Qianlong, the Qing dynasty's fourth emperor, abdicated and was succeeded by Jiaqing.
(February 09, 1971)
After the third manned Moon landing, Apollo 14 returns to Earth.
(February 09, 1971)
Satchel Paige is inducted into the Baseball Hall of Fame of the United States for the first time.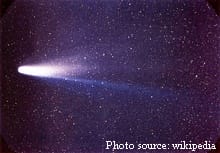 (February 09, 1986)
Halley's Comet was last seen in our Solar System.
(February 09, 1996)
Chemical element 112, a heavy transuranium element later termed copernicium, was created by German physicist Peter Armbruster and his team of scientists.
(February 09, 2002)
Princess Margaret, King George VI's second daughter and Queen Elizabeth II's younger sister, died in London. She battled to balance her independence with her responsibilities as a member of the British royal family.
(Died on February 09, 2021)
Chick Corea, American jazz composer (b. 1941).