Today in History

JAN
FEB
MAR
APR
MAY
JUN
JUL
AUG
SEP
OCT
NOV
DEC

On December 3, learn about the most interesting events and historical facts from across history. The 337th day of the Gregorian calendar is December 3. On this day in history, Illinois becomes the United States' 21st state, neon lighting makes its debut at the Paris Motor Show, and the Playstation is released in Japan.
Sagittarius rules the 3rd of December. Ozzy Osbourne, Julianne Moore, and Brendan Fraser all have famous birthdays. National Disability Day is observed on December 3rd.

Event
(December 03, 1818)
Illinois became the United States of America's twenty-first state. photo source: wikimedia.org
(December 03, 1967)
A transplant team led by Christiaan Barnard at Groote Schuur Hospital in Cape Town, South Africa, performs the first human heart transplant (53-year-old Louis Washkansky). photo source: wikimedia.org
(December 03, 1984)
In one of the greatest industrial catastrophes in history, a methyl isocyanate leak from a Union Carbide pesticide plant in Bhopal, India, kills about 3,800 people and injures 150,000–600,000 more (some 6,000 of whom ultimately died from their injuries). photo source: wikimedia.org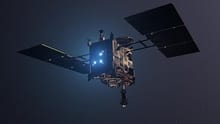 (December 03, 2014)
Japan's space agency, JAXA, launches the space explorer Hayabusa2 from the Tanegashima Space Center on a six-year round-trip mission to collect rock samples from an asteroid. photo source: wikimedia.org
(Died on December 03, 2016)
Arthur Latham, British politician and Member of Parliament (b. 1930).