The roaring twenties, which spanned the years 1920 to 1929, was known for its flamboyance and openness. Jazz grew popular during this time period, and a record number of Americans lived in cities rather than on farms. As more individuals discovered the joys of dancing, jazz gained centre stage as well. With Ernest Hemingway's The Sun Also Rises and F. Scot Fitzgerald's The Great Gatsby, literature also grabbed centre stage. This year, on May 18, Pope John Paul II was born.
The League of Nations, comprised of 42 countries, was founded on January 10, 1920, as the roaring twenties swept the United States. The first meeting took place on November 15 in Geneva, with the United States of America absent. The League of Nations mediated international conflicts, although it was mostly ignored by major governments. In 1920, American women, like their male counterparts, cast ballots in the presidential election. This was significant since it was the first time that women were allowed to vote. This right was ratified in the 19th amendment of the American constitution on August 26, 1920, after more than a century of waiting.
On December 16, one of the most destructive earthquakes in history struck China. The quake, which had a magnitude of 8.5, wreaked havoc on a 25,000-square-mile area. The earthquake triggered catastrophic landslides, killing an estimated 200,000 people. The earthquake struck 10 of Gansu Province's most heavily inhabited districts, resulting in a large number of casualties.
In this year, a professional football body named the American Professional Football Conference, AFPC, was founded by seven men, including Jim Thorpe, the outstanding athlete of the time.
The American Football Professional Conference (AFPC) was the forerunner to the National Football League, which is now known all over the world.
Continue reading to discover more about the events of 1920.

Event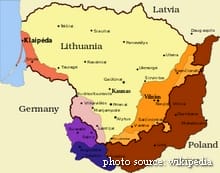 (July 12, 1920)
The Soviet–Lithuanian Peace Treaty is signed, recognising the independence of Lithuania by the Soviet Union.
(August 18, 1920)
On this day in 1920, Tennessee became the 36th state to ratify the Nineteenth Amendment, concluding a 72-year battle to give women the right to vote in the United States.
(August 26, 1920)
The United States' Constitution was amended to include the Nineteenth Amendment, which granted women the right to vote. photo source: wikimedia.org
(November 16, 1920)
Qantas, the national airline of Australia, is founded as Queensland and Northern Territory Aerial Services Limited. photo source: wikimedia.org
(November 16, 1920)
Commercial use of the Model M Postage Meter began. Pitney-Bowes Postage Meter Company was founded in April 1920 by American inventor Arthur Pitney and industrialist Walter Bowes. They collaborated on the first postage metre in the United States. photo source: wikimedia.org