The year 1900 marked the beginning of a new century and the final century before the new millennium. The globe looked forward with much hope, since humanity's development in the previous century made the new century appear quite hopeful. While significant progress would be made, the world could not have predicted the devastating great wars that would loom on the horizon. Even so, there were some important developments in the year 1900.
This year, a World Exposition took place in Paris. The exhibition's creative work would go on to start a new artistic style – Art Nouveau became a popular international form of art as a result of the exhibition's artistic effort. This year, the first zeppelin flight was place in Germany. This was a game-changing breakthrough, as zeppelins would be used to convey passengers and conduct military operations for decades. However, because their golden age only lasted until the end of the 1930s, they would swiftly become obsolete.
It's also worth remembering that the year 1900 was not one of peace. The Boxer Rebellion – a Chinese rebellion against foreign influence – was in its second year of warfare in China. The Philippine-American War, a battle for independence in the Philippines, entered its second year. In 1900, the Second Boer War was in its second year. This was part of a series of battles for control of the region between the British Empire and the native Boers in what is now South Africa.
L. Frank Baum's Wonderful Wizard of Oz was released this year, ushering in a cultural phenomenon that would have an impact on decades through literature, film, and television. The dramatist George Bernard Shaw's "You Never Can Tell" made its London debut in this year.
However, there was a lot more going on in 1900 than you might think, so keep reading to find out more.

Event
(January 14, 1900)
On this day in 1900, Giacomo Puccini's opera Tosca, a psychological drama of deception and doubt composed by one of the greatest exponents of operatic realism, had its world debut in Rome's Costanzi Theatre. photo source: wikimedia.org
(January 16, 1900)
The Anglo-German Treaty of 1899, in which the United Kingdom relinquishes its claims to the Samoan Islands, is approved by the United States Senate.
(April 30, 1900)
Casey Jones, an American railroad engineer who was subsequently immortalised in song, perished in a train accident.
(April 30, 1900)
Sanford B. Dole becomes the governor of Hawaii, which becomes a US territory.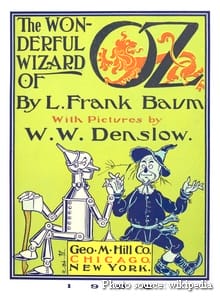 (May 17, 1900)
The Wonderful Wizard of Oz by L. Frank Baum was initially published, and it quickly became a children's classic; the 1939 film adaptation is one of the most treasured films in American cinema.
(June 21, 1900)
As an edict issued by Empress Dowager Cixi, China declares war on the United States, the United Kingdom, Germany, France, and Japan.