Today in History

JAN
FEB
MAR
APR
MAY
JUN
JUL
AUG
SEP
OCT
NOV
DEC

On September 15, learn about the most interesting historical events and facts that occurred throughout history. The Gregorian calendar's 258th day is September 15. Napoleon's army advances on Moscow's Kremlin; tanks make their first appearance during WWI. Muhammad Ali beat Leon Spinks to become the first heavyweight boxer to win the title three times.
The 15th of September falls under the sign of Virgo. Marco Polo and Tommy Lee Jones both have famous birthdays. It's Batman Day today.

Event
(September 15, 1821)
Costa Rica Independence Day.
(September 15, 1916)
During World War I, the British used the tank for the first time in action, at the Battle of the Somme. photo source: wikimedia.org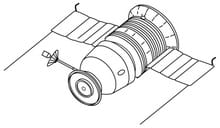 (September 15, 1968)
The spacecraft Soviet Zond 5 is started, becoming the second spaceship to and around the Moon, and the first to return to Earth safely. The Zond 5 craft delivered terrestrial species, including two tortoises, fruit fly eggs, and plant seeds, to the region of the Moon. photo source: wikimedia.org
(September 15, 1978)
Muhammad Ali won his third world heavyweight title after defeating Leon Spinks in a rematch in the Superdome in New Orleans. photo source: wikimedia.org