Today in History

JAN
FEB
MAR
APR
MAY
JUN
JUL
AUG
SEP
OCT
NOV
DEC

On June 19, learn about the most interesting events and historical facts from throughout history. In the Gregorian calendar, June 19th is the 170th day of the year. Slavery is abolished in US territories on this day, and the first Father's Day is observed in Spokane, Washington. Colombian drug lord Pablo Escobar surrenders to authorities.
Gemini is the zodiac sign for June 19. Salman Rushdie, Paula Abdul, and Aung San Suu Kyi all have famous birthdays. Today is National Martini Day and National Garfield the Cat Day.

Event
(June 19, 1846)
The New York Base Ball Club defeats the Knickerbockers 23–1 on Hoboken, New Jersey's Elysian Fields under Alexander Cartwright's rules in the first officially recorded organised baseball game.
(June 19, 1910)
In Spokane, Washington, the first Father's Day is observed.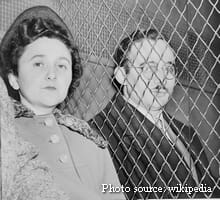 (June 19, 1953)
Julius and Ethel Rosenberg were hanged on this day in 1953, after judicial appeals and an international campaign for mercy failed. They were the first American civilians to be executed for espionage.
(June 19, 1960)
Charlotte Motor Speedway hosted the first NASCAR race.
(June 19, 2013)
While on vacation in Rome, American actor James Gandolfini died of a heart attack. He was best known for his role as Mafia leader and family man Tony Soprano in the HBO drama series The Sopranos (1999–2007).
(Died on June 19, 2014)
Gerry Goffin, American songwriter (b. 1939).