Today in History

JAN
FEB
MAR
APR
MAY
JUN
JUL
AUG
SEP
OCT
NOV
DEC

On January 14, learn about the most interesting events and historical facts that occurred throughout history. The fourteenth day of the Gregorian calendar is January 14th. On this day, NBC debuted Today, Elvis Presley's concert, Aloha from Hawaii, was transmitted via satellite and became the most watched television show ever for a single entertainer, and Tito was sworn in as President of Yugoslavia.
Capricorn is the zodiac sign for January 14. LL Cool J, Benedict Arnold, and Dave Grohl all have famous birthdays. National Dress Up Your Pet Day and National Hot Pastrami Sandwich Day both fall on January 14th.

Event
(January 14, 1784)
The Continental Congress accepted the Treaty of Paris (1783), which recognised the United States' independence from Great Britain. photo source: wikimedia.org
(January 14, 1900)
On this day in 1900, Giacomo Puccini's opera Tosca, a psychological drama of deception and doubt composed by one of the greatest exponents of operatic realism, had its world debut in Rome's Costanzi Theatre. photo source: wikimedia.org
(January 14, 1954)
At City Hall in San Francisco, baseball player Joe DiMaggio married actress Marilyn Monroe. photo source: wikimedia.org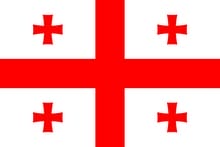 (January 14, 2004)
After a 500-year absence, the Republic of Georgia's national flag, the so-called "five cross flag," has been returned to formal usage. photo source: wikimedia.org
(January 14, 2005)
It was the first time a spacecraft landed on a planetary surface in the outer solar system when the Huygens entry probe landed on Saturn's largest moon, Titan. photo source: wikimedia.org
(Died on January 14, 2020)
Joel Robert, Belgian professional motocross racer (b. 1943).