The millennials of today are children born in this year and later years. A multimillion-dollar lawsuit was filed against Judas Priest after a youngster committed suicide after listening to their song "Better by You Better Than Me." For their song "One," Metallica earned their first Grammy award for Best Metal Performance. Ghost, starring Patrick Swayze, Demi Moore, and Whoopi Goldberg, was the box office's highest-grossing film.
Nelson Mandela was released from prison three days before Valentine's Day. In 1964, he was condemned to 27 years in jail with hard labour. Mandela spent his first 18 years in prison on Robben Island, in a cell without a bed or running water. According to the sentencing conditions, he would send and receive a letter every six months and get one 30-minute visitation every year. When F. W. de Klerk became president of South Africa in 1989, he set out to eliminate apartheid, with Mandela's freedom at the top of his priority list. For their achievements in abolishing apartheid, Mandela and de Klerk were awarded the Nobel Peace Prize.
On October 3, 1990, little than a year after the fall of the Berlin Wall, Germans from East and West gathered together for Unity Day. The cold war was fought on the battlefield of a divided Germany. The country's unification was a clear sign that the Cold War was coming to an end.
On July 2, a stampede at a pedestrian tunnel in Mecca killed approximately 1,400 people. Muslim pilgrims on their way to Mecca for the annual Hajj trip were caught up in the rush. This was the latest in a series of disasters that have occurred throughout the trek. The event was caused by police enforcement's lack of effective organisational plans and the large number of people that showed up. Technology was progressing at the time, and more individuals had colour televisions in their houses. It's also the year Satoshi Tajiri started working on the world-famous Pokémon video game.
Continue reading to discover more about the events of 1990.

Event
(January 24, 1990)
Hiten, Japan's first lunar probe, is launched, marking the first robotic lunar probe launched since the Soviet Union's Luna 24 in 1976 and the first lunar probe launched by a country other than the Soviet Union or the United States.
(February 02, 1990)
On this day in 1990, South African President F.W. de Klerk overturned the African National Congress's 30-year ban, allowing Nelson Mandela to be released from prison and ushering in the end of apartheid.
(February 11, 1990)
Nelson Mandela was released after 27 years in jail, and he immediately began discussions with President F.W. de Klerk to end apartheid in South Africa.
(February 14, 1990)
The snapshot of planet Earth taken by the Voyager 1 spacecraft is afterwards known as Pale Blue Dot.
(March 11, 1990)
Lithuania became the first Soviet republic to declare independence from the USSR after a vote in parliament.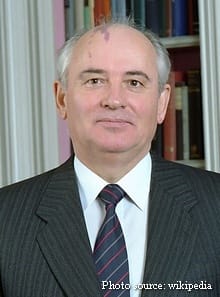 (March 15, 1990)
Mikhail Gorbachev was elected president of the Soviet Union by the Congress of People's Deputies of the Soviet Union.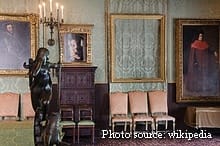 (March 18, 1990)
Two men posing as police officers took 13 works from the Isabella Stewart Gardner Museum in Boston, including paintings by Rembrandt and Johannes Vermeer, in what was dubbed the world's largest art theft; the stolen art was never recovered.
(March 21, 1990)
After 75 years of South African rule, Namibia declares independence.
(April 08, 1990)
Ryan White, a national symbol in the United States after contracting AIDS as a result of a blood transfusion administered to treat his haemophilia, died.
(April 21, 1990)
Erté, a significant character in Art Deco who created outstanding costumes and set designs for French music-hall revues and died in Paris, was a Russian-born artist and fashion designer.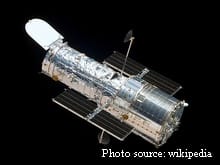 (April 24, 1990)
On this day in 1990, the crew of the space shuttle Discovery launched the Hubble Space Telescope, a sophisticated optical observatory built in the United States under NASA's supervision.
(July 13, 1990)
In the greatest mountaineering tragedy in history, a 6.4-magnitude earthquake in Afghanistan triggered an avalanche on Lenin Peak, killing 43 climbers.
(August 02, 1990)
Iraq invades Kuwait, triggering the Gulf War.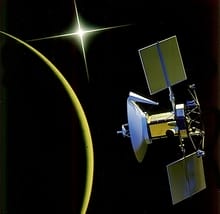 (August 10, 1990)
The Magellan spacecraft has arrived on Venus. photo source: wikimedia.org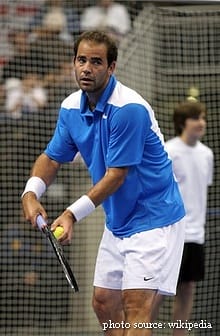 (September 09, 1990)
Pete Sampras, an American tennis player, defeated Andre Agassi at the US Open to win his first of 14 Grand Slam singles titles.
(October 03, 1990)
Following four decades of Cold War conflict, and under pressure from German Chancellor Helmut Kohl, Soviet leader Mikhail Gorbachev consented to a unified Germany within NATO, resulting in Germany's reunification on this day in 1990.
(November 10, 1990)
The international premiere of John Hughes' American comedy Home Alone, starring Macaulay Culkin; a major smash, it spawned a number of sequels and became a TV mainstay around the Christmas holidays. photo source: wikimedia.org
(November 12, 1990)
On this day in 1990, about two years after his father, Hirohito, died, Japanese Emperor Akihito was legally enthroned as the 125th direct descendant of Jimmu, Japan's mythical first emperor. photo source: wikimedia.org
(November 12, 1990)
Tim Berners-Lee proposes the World Wide Web in an official document. photo source: wikimedia.org
(November 23, 1990)
Roald Dahl, a British novelist best known for his irreverent children's tales such as James and the Giant Peach (1961) and Charlie and the Chocolate Factory (1964), passed away in Oxford, England. photo source: wikimedia.org