World life expectancy has more than doubled since 1900, according to Our World in Data, reaching more than 70 years in some countries. A life expectancy of 53 years is recorded in the Central African Republic, compared to a 30-year advantage in Japan for 2019. This is a significant increase, and we may attribute it to a variety of factors. Advances in medicine, improved living conditions, and a significant drop in the number of people dying from infectious diseases are just a few instances of how the world has progressed.
The World's Oldest Man of All Time
Jiroemon Kimura of Japan was the world's oldest verified male. Jiroemon Kimura was born on April 19, 1897, and was the first man in history to live to the age of 116 years and 54 days. He still holds the world record for the oldest man ever.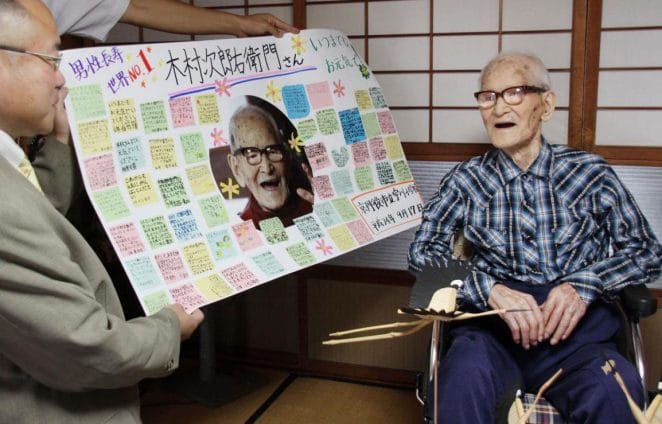 Did You Know?
Kimura has witnessed two world wars, four Japanese emperors, and 61 Japanese prime ministers throughout his lifetime.
Kimura credits his good health to limiting his meal portions, getting up early in the morning, reading newspapers with a magnifying glass, and watching sumo wrestling and parliamentary debates on television. He believes that eating small portions of food (hara hachi bun me) is the key to living a long and healthy life – which translates as eating until one is 80 percent full.
Jiroemon Kimura was officially recognised as the world's oldest man in 2012 by Guinness World Records as the oldest man ever verified to have lived.
Throughout the twentieth century, a total of 24 people have held the world record for the oldest living person, with only two of them being men. Jiroemon Kimura was the last man to hold the record, which he did in 2012.
Kimura died as the world's oldest verified male, one of the top 20 oldest people ever, and the sixth-oldest Japanese person ever, following Tane Ikai, Misao Okawa, Chiyo Miyako, Nabi Tajima, and Kane Tanaka – the world's oldest known living human (woman), who is 118 years old.
Sources:Wikipedia, Wikipedia, Guinness World Records, Wikia, Nature World News