Mother Teresa is one of the most influential human beings in history. She is the greatest humanitarian to have ever lived. Mother Teresa did a lot of charity and built organisations to help the poor and weak people of society.
For today's article, we have put together a list of some of the best facts regarding Mother Teresa and how she became the most influential woman of her era.

1. Early life of Mother Teresa.
Mother Teresa was born on Friday, August 26, 1910, in Skopje, Macedonia, to a well-settled and respected family. Agnes Gonxha Bojaxhiu was her true name. Her father's name was Nikollë Bojaxhiu, and her mother's name was Dranafile Bojaxhiu. During these days, Skopje was under the control of the historic Ottoman Empire.
She had two sisters and was the youngest of the three girls. Afterward, when she left on her journey to join the Sisters of Loreto. She never saw her mother or sister again after leaving for Ireland, despite living to be 87 years old. Mother Teresa was born into a financially stable Albanian family. They had two houses, and they lived in one of them. When she was 8, her father left the world, ending her family's financial protection.
2. Mother Teresa's beginning.
Mother Teresa always liked the work of preachers from an early age. By the age of 12, she had committed herself to religious ways. In her own words, she talked about her liking for Roman Catholic nuns and missionaries who travel the world to spread Catholicism. A lot of what she did for the poor was based on her mother's kindness and desire to help the poor in her community. Her mother always opened her doors to the poor and fed them. After the death of her father, Mother Teresa got closer to her mother, who was a firm believer in charity work.
3. Teresa is the new name for Agnes.
At the age of 18, in 1928, Agnes embarked on her mission to become a nun. After that, she became a member of the Sisters of Loreto in Dublin, Ireland. It was at this point that she never turned back and chose her name to be Teresa in honour of Saint Thérèse of Lisieux.
4. Mother Teresa established the Missionaries of Charity.
Mother Teresa formed the group of Missionaries of Charity in 1950. The main purpose of this group was to become a beacon of light for the less fortunate people of the society. After 15 years, her work reached Pope Paul VI, who granted her the Decree of Praise. Thus, her mission grew from 13 members to 4,000 members, 610 foundations, and thousands of worldwide volunteers.
5. Mother Teresa was a member of the choir.
Mother Teresa went to a nun-run primary school when she was young. Later, she attended a government-run high school. She was a devout Catholic who sang in the sacred heart choir at her local church. She was so talented that she was frequently invited to perform solo verses. She also had an epiphany about her missionary path while on an annual trip to the Church of the Black Madonna in Letnice when she was 12 years old.
6. In 1946, Teresa went on retreat to Darjeeling and found her true calling.
Mother Teresa, who was then located in Calcutta, travelled to the Himalayas for a retreat in 1946. She claimed she overheard Christ telling her to travel to the slums of Calcutta and help the destitute and ill while on the train. She was a teacher at the time. It had been a difficult choice to make. She couldn't leave the convent without permission because she had taken an oath of allegiance.
Her request was granted after two years of petitioning, and she walked out of the convent wearing the renowned blue and white sari. She completed a six-month medical training programme to get basic medical knowledge. She went to Calcutta's slums with a single mission: to show love to the impoverished and sick after completing her training.
7. Mother Teresa turned down the Nobel Prize banquet.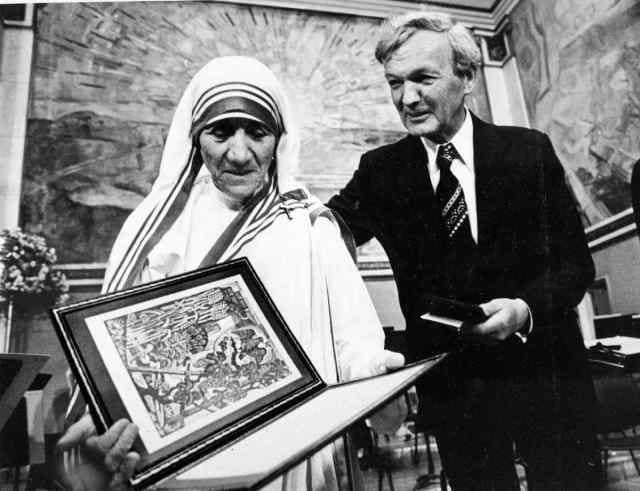 Mother Teresa received recognition for her work in 1979 when she was given the Nobel Peace Prize. Mother Teresa was a golden figure that lent a hand to the poor and sick and showed them the positive side of life. Her efforts were highly appreciated by the Norwegian Nobel Committee, and she is regarded up to this day as one of the most respected human beings of all time.
Mother Teresa declined the usual Nobel Banquet, which is hosted for the most honorees as a celebration. This normally costs around $192,000. She requested that the proceeds from the dinner be donated to charity that assist the needy with whom she has been living and working.
8. Mother Teresa received numerous awards.
Throughout her life, Mother Teresa received honours from a variety of organisations and countries, typically for her work with the underprivileged or to promote peace. She won at least 124 prizes in all, including many of the most prestigious and well-known.
Mother Teresa received the Padma Shri, one of India's highest civilian honours, in 1962 for her services to the Indian people. In 1979, she was awarded the Nobel Peace Prize for her humanitarian efforts, and the Indian government bestowed the Bharat Ratna, the country's highest civilian honour, on her the following year. The Presidential Medal of Freedom was awarded in 1985, as was the Congressional Gold Medal (1997).
9. Mother Teresa worked miraculous healings.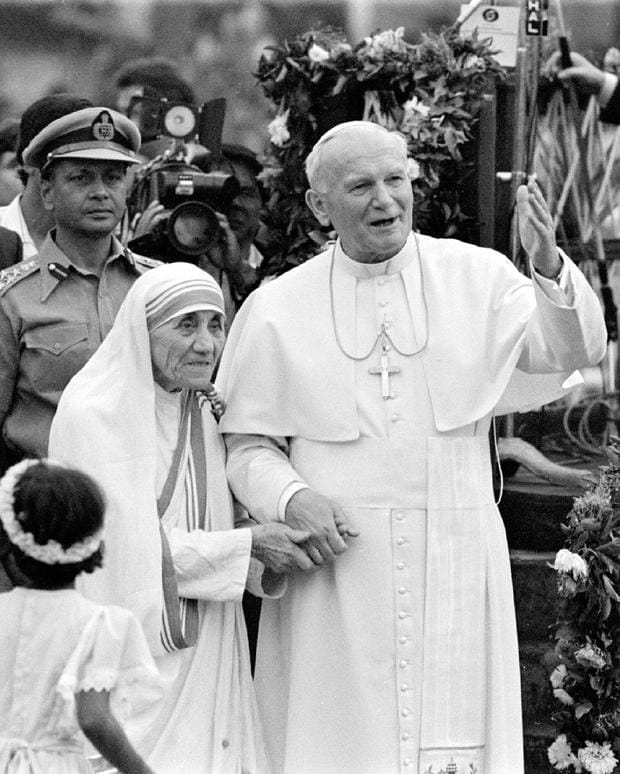 Monica Besra, a woman from Bengal, India, went to charity missionaries for prayers in 1998. In her stomach, she developed a malignant growth. She noticed a light coming from a portrait of Mother Teresa on September 5, the same year, while praying in the Charity's chapel. The nuns also prayed with her, placing a medallion on her stomach that had previously touched Mother Teresa's body, pleading with her to intercede. The tumour was gone when Besra awoke the next morning. Medical specialists were baffled by the cure's remarkable nature. She has been cancer-free for a long time.
Marcilio Haddad Andrino nearly died in 2008. His brain had abscesses and fluid buildup from an infection, and he went into a coma. Fernanda, his wife, prayed to Mother Teresa for assistance. When they married, a priest gave Fernanda a Mother Teresa relic, which she placed on Marcilio's abscesses. In a last ditch effort to save his life, he had surgery to drain his brain fluid. But Andrino mysteriously awoke. Andrino made a full recovery, much to his wife's delight. His abscesses and cerebral fluid disappeared without surgery. Though the medicines he took made him sterile, Andrino and his wife had children. The Congregation for Saints' Causes and a medical committee looked at the case. Andrino's cure has no medical explanation. Mother Teresa was credited with a second miracle.
Pope Francis acknowledged this miracle on December 18, 2015, paving the way for her canonization. On September 4, 2016, Mother Teresa was canonised as Saint Teresa of Calcutta. Pope Francis led the canonization mass in Vatican City's St. Peter's Square.
10. Saint Teresa's distinctive blue-rimmed white cotton sari has been trademarked.
Saint Teresa of Kolkata's famed white, blue-rimmed cotton sari has been patented in what the nun's former lawyer claims is a first for a religious uniform elsewhere in the world. Teresa is claimed to have bought the sari from a Kolkata market the night she was given permission to operate in the city's slums, and it is now the unique intellectual property of the Missionaries of Charity, the order she founded over 70 years ago.
11. The Indian government gave Mother Teresa a state funeral.
Mother Teresa died of heart failure on September 5, 1997, in Calcutta, India, at the age of 87. Mother Teresa was given a state funeral in India, and was put to rest within the international headquarters of the Catholic mission she founded in the slums of this city. Mother Teresa's open casket was surrounded by wreaths laid by dignitaries from nearly 50 countries, including first lady Hillary Rodham Clinton. This shows both the diversity of her adopted country and the breadth of her Missionaries of Charity order's work to help the world's poorest people.
The three-hour funeral service was held in front of 13,000 mourners at Netaji Indoor Stadium. The choir of her order performed hymns in both English and Indian languages. Prayers were offered in Hindi, the national language of India, and Bengali, the regional language of Calcutta, which Mother Teresa fluently spoke. It was a 5 km procession that went from St. Thomas Church, where the body had been lying in state for the last week, to a cemetery. People from all walks of life lined both sides of the route. Mother Teresa's funeral was attended by a gathering of up to a million people in this primarily Hindu metropolis.
Sources:Wikipedia, Discoverwalks