On October 7, 1919, the Royal Dutch Airlines, or KLM, was created. KLM is the world's oldest airline, still operating under its original name. In October of 2021, Royal Dutch Airlines celebrated its 102th anniversary. The KLM Group's home base is Amsterdam, from where it serves its global network. KLM Royal Dutch Airlines is now headquartered at Schiphol Airport in Amsterdam, with a network of over 145 destinations on six continents and a fleet of 116 aircraft.
Founding date: October 7, 1919
First Flight: May 17, 1920
Country: Netherlands
Hubs: Amsterdam Airport Schiphol
KLM Founder – Albert Plesman
KLM (Koninklijke Luchtvaart Maatschappij voor Nederland en Koloniën) which means "Royal Dutch Airlines for the Netherlands and Colonies" was founded as one of the world's first commercial airlines by eight Dutch businessmen. Albert Plesman, an aviator lieutenant who earlier that year funded the First Aviation Exhibition Amsterdam (ELTA), was appointed as KLM's first administrator and director.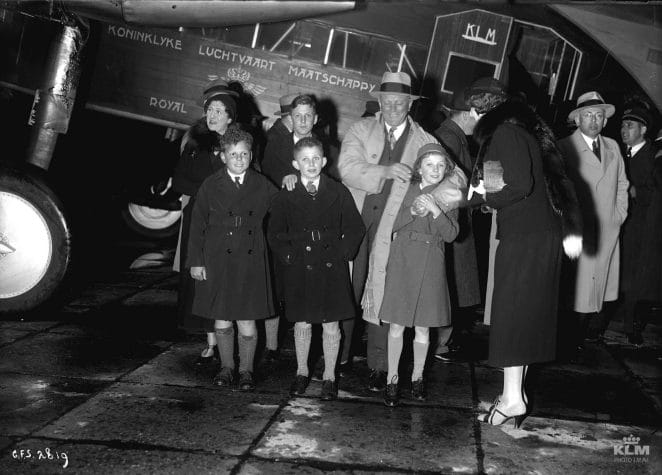 KLM First Pilot – Jerry Shaw
The inaugural flight of KLM occurred on May 17, 1920. Pilot Jerry Shaw flew the airline's first flight (a four-seater De Havilland DH.16) from Croydon Airport in London to Amsterdam, the Netherlands, in 1920.
Did You Know?
KLM began service between Amsterdam and Batavia (then known as Jakarta) in 1924, making it the world's longest air route at the time.
The first animal transport took place in 1924. Nico V, a young stud bull, is the first of many animals transported by KLM.
In 1930, regular service was established between Amsterdam and Batavia. This was the longest scheduled air service in the world prior to Second World War.
It was the first European airline to start scheduled flights to New York, using DC-4 aircraft, in 1946.
The Tenerife airport crash, which occurred on March 27, 1977, is still the accident with the most airliner passenger fatalities. The 583 fatalities in the two Boeing 747s that collided in the 1977 Tenerife airport disaster are the most fatalities in multiple aircraft in a single incident.
KLM is the first airline in the world to launch a self-service transfer kiosk in 2006, allowing passengers transferring at Amsterdam Airport Schiphol to print new boarding passes quickly and easily.
In 2013, KLM flew its first test flight with WiFi on board.
In 2021, KLM has received the APEX Diamond Award for Health Safety. This is the highest level of qualification available for airlines in terms of health and safety. After Virgin Atlantic, KLM is the second European airline to achieve this Diamond certification.